The three match ODI series between
South Africa
and
India
was supposed to be one of the most competitive this year.
It was not.
South Africa dominated India in the first two ODIs and scored 301/8 in the third before rain prevented a result. SA won the series 2-0. In all three games Quinton de Kock (20) scored a century. He received man of the series for this.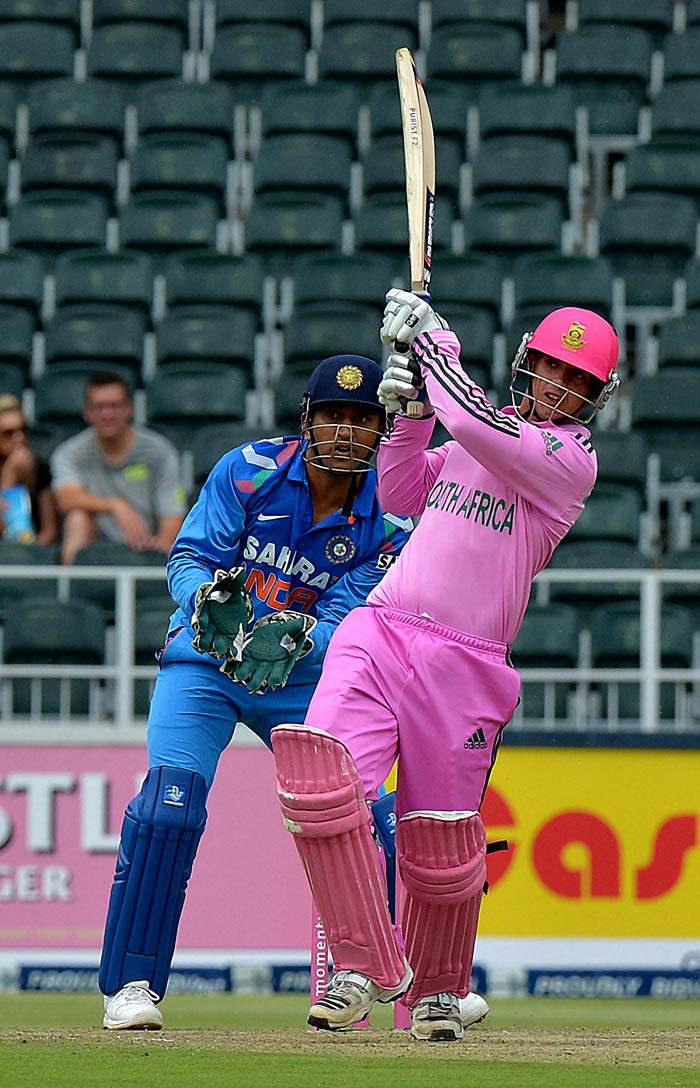 Quinton de Kock (20) scored his first century of the series in pink. sports.ndtv.com aptly gave this photo the caption: "Baby-faced 'pink panther' Quinton de Kock takes Proteas to win in 1st ODI". Image taken from sports.ndtv.com.
This is why I love sport: Things happen that shouldn't.
Wigan beat Chelsea last season (football), Ireland nearly beat New Zealand this year (rugby), football players are judged to he worthy of extreme prices but profusely fail to live up to their designated values, and a 20 year old scores three consecutive centuries against the world number one ODI side (cricket).
These are all unpredictable occurrences that defy logic. Common sense cannot comprehend these events and has to turn its face away.
For English football fans this picture needs no explanation. For everyone else: A few years before Fernando Torres (29) came to Chelsea he was one of the best strikers in European football. Going to Chelsea, one of the better clubs in England, he received a contract worth 50 million pounds. Since then Torres has not been nearly effective. Image taken from http://www.lfcreds.com/.
In this ODI series the Proteas batsmen actually played spin better than pace, dispatching the spinners all around the ground for numerous fours and sixes. I have never seen South Africans do so well against spinners, and against Indian spinners nogal! India does not just have world-class spinners, they have world-class spinners on the bench, or unselected. Think Ashwin, Jadeja, Mishra, Ojha, Chawla...
India were (and are) the number one ODI team. South Africa are currently tied fourth with Sri Lanka. The demolition of India in the ODI series demonstrates either two things:
1) India are still very poor away from home and their success in cricket and position in the ICC rankings is primarily due to the abundance of cricket they play at home.
2) The Proteas were simply much better than the Indian team.
Why is it that in sport we see the best lose against the worst and the most unlikely and unpredictable things happen?
Whatever the reason, this factor makes sport all the more interesting.
Despite the ODI series going the way it did (illogically), I am still looking forward to the Test series as I think it will be more competitive.
One last thought: the Proteas' dominance of India was predominantly facilitated by the brilliance of Quinton de Kock. Why can't he be placed in the Test squad?