A West Indian IPL?
Unfortunately I missed the IPL final last night (on 26 May 2013). However I watched the highlights this morning. After Chennai beat Mumbai in their playoff to go straight into the final, Mumbai defeated Rajasthan in another playoff and then went all the way and overcame Chennai in the final.
Mumbai won the final by 23 runs, their first IPL tournament win.
The West Indian cricketers have proved in this IPL that they are a powerful force in T20 cricket.
Chris Gayle
made the highest T20 score for a batsman (175*) and
Dwayne Brav
o took the most wickets in an IPL season (32). Kieron Pollard, Dwayne Smith, Darren Sammy and Sunil Narine also had a great tournament. For me Kieron Pollard was the best player in the tournament as he made big knocks in the playoffs as well as the final.
I can see now that West Indians are fantastic in this format and the WI teams will be a great threat in the Champions League T20 later this year.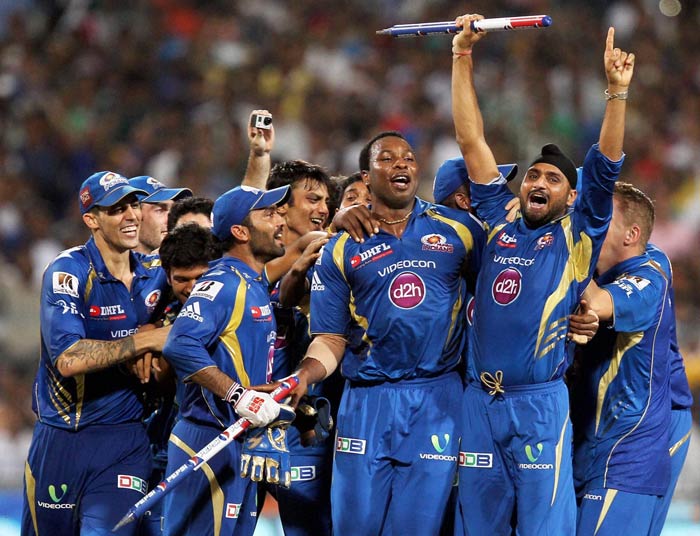 IPL 2013 final: CSK 125/9 (20) MI 148/9 (20). Kieron Pollard (centre) hit 60* and got man of the match. Image taken from http://sports.ndtv.com
Cricket in England
I really enjoy watching cricket played in England. The picture on the TV screen is always clear and green, the commentary is really nice and the England test team is a good unit. The England team always seems to back each other. They believe in each other, and take on the best teams in the world; especially when they play in England. Their fans are also very supportive, chant and sometimes dress up for matches. The fans are also impolite at times - which makes it more entertaining.
The conditions in England will favour seamers and batsmen. So next month's ICC Champions Trophy will be exciting for me. I love watching seamers in action. Fast bowlers are far more interesting than spinners. England will probably play well. They are dominating New Zealand right now; and having their fans behind them and playing on their own conditions in the tournament will also help. England will be a team to watch out for, and certainly Australia and Pakistan. Of course I am hoping SA can do well.
Coming from a great IPL, I hope this Champions Trophy will be just as exciting.
Stuart Broad

(26) of England. He will probably be the best English pace bowler for a while, and he can bat a bit. Image taken from http://www.standard.co.uk
Broad's stats are as follows: (Taken from
http://www.espncricinfo.com
on 27 May 2013)
Batting and fielding averages
| | Mat | Inns | NO | Runs | HS | Ave | BF | SR | 100 | 50 | 4s | 6s | Ct | St |
| --- | --- | --- | --- | --- | --- | --- | --- | --- | --- | --- | --- | --- | --- | --- |
| Tests | 56 | 77 | 10 | 1676 | 169 | 25.01 | 2639 | 63.50 | 1 | 9 | 210 | 14 | 16 | 0 |
| ODIs | 96 | 51 | 17 | 416 | 45* | 12.23 | 568 | 73.23 | 0 | 0 | 25 | 6 | 20 | 0 |
| T20Is | 46 | 19 | 7 | 71 | 18* | 5.91 | 74 | 95.94 | 0 | 0 | 5 | 1 | 20 | 0 |
| First-class | 109 | 145 | 25 | 2854 | 169 | 23.78 | 4826 | 59.13 | 1 | 16 | | | 36 | 0 |
| List A | 113 | 57 | 18 | 462 | 45* | 11.84 | 642 | 71.96 | 0 | 0 | 28 | 6 | 22 | 0 |
| Twenty20 | 64 | 21 | 8 | 80 | 18* | 6.15 | 87 | 91.95 | 0 | 0 | 5 | 1 | 23 | 0 |
| | Mat | Inns | Balls | Runs | Wkts | BBI | BBM | Ave | Econ | SR | 4w | 5w | 10 |
| --- | --- | --- | --- | --- | --- | --- | --- | --- | --- | --- | --- | --- | --- |
| Tests | 56 | 100 | 11654 | 5950 | 191 | 7/44 | 11/165 | 31.15 | 3.06 | 61.0 | 7 | 8 | 1 |
| ODIs | 96 | 96 | 4897 | 4242 | 152 | 5/23 | 5/23 | 27.90 | 5.19 | 32.2 | 9 | 1 | 0 |
| T20Is | 46 | 45 | 981 | 1205 | 55 | 4/24 | 4/24 | 21.90 | 7.37 | 17.8 | 1 | 0 | 0 |
| First-class | 109 | | 20789 | 11230 | 394 | 8/52 | | 28.50 | 3.24 | 52.7 | 17 | 18 | 2 |
| List A | 113 | | 5679 | 4930 | 177 | 5/23 | 5/23 | 27.85 | 5.20 | 32.0 | 9 | 1 | 0 |
| Twenty20 | 64 | 63 | 1383 | 1577 | 81 | 4/24 | 4/24 | 19.46 | 6.84 | 17.0 | 1 | 0 | 0 |